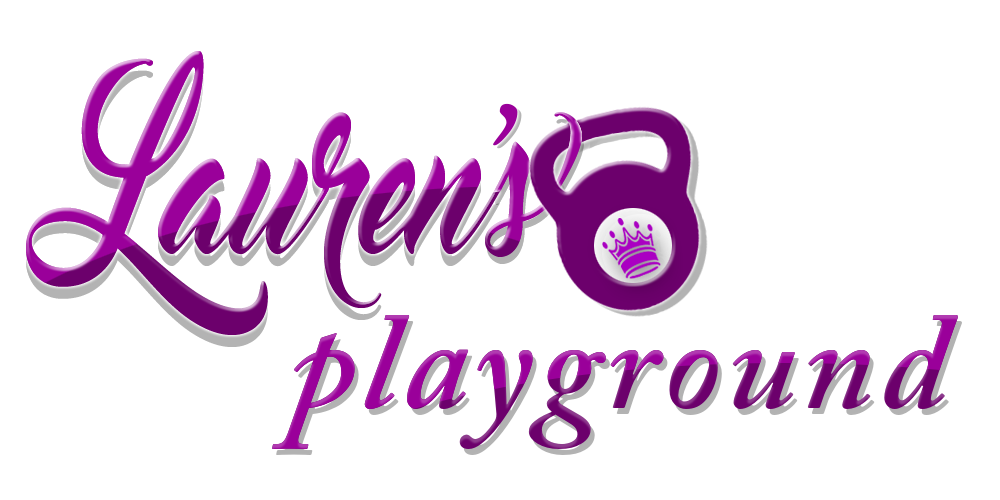 ENROLLMENT TO LP HAS OFFICIALLY  CLOSED 
DON'T BE SAD IF YOU MISSED IT THIS TIME. WE HAVE LOT'S OF OTHER WAYS TO CONNECT AND WORKOUT. WE HAVE OUR PREMIUM LIVE CLASS MEMBERSHIP OPTION OPEN AND ACCESS TO HUNDREDS OF HOURS OF DIGITAL PROGRAMS, VIDEOS, AND DVD'S.
If you have been wondering, Lauren's Playground is a results driven online kettlebell fitness gym that has transformed hundreds of people all over the world just like you to become strong, lean, fit, and age beautifully. In fact, some of our over 60 members, look younger now than they did years ago! Even women who have had many kids look and feel better now than pre-pregnancy days, due to the most effective and simple kettlebell workouts provided in Lauren's Playground.
Lauren's Playground online community has been successfully changing lives now for over 4 years. Our member's body physique changes are undeniable.
Before LP, Lauren's world renowned Kettlebells DVDs, programs, and book changed thousands of lives!
In addition to getting our exercise we have an incredible and supportive community both within Lauren's Playground and through an amazing private Facebook Group that you can join when you're a member.
You will not regret joining Lauren's Playground where you will have access to the best workouts for YOUR level, that you could ever imagine! I made a little video below that will show you exactly what you can expect when you become a member.
Hope to see you on the Playground! This will be the best decision you have ever made!
Watch! The Secret to Strength and Fat loss with Kettlebell Training along with a tour inside Lauren's Playground.
If you'd like to learn about me you can read more here
TIME SENSITIVE BONUS ALERT
Value $129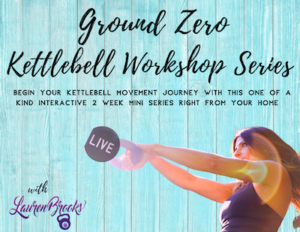 GOUND ZERO KETTLEBELL WORKSHOP 2 WEEK SERIES 
This is a workshop was recorded completely LIVE over a 2 week time span, consisting of 6 mini meet up lessons via Zoom, with you and others from around the world. I suggest you take 2 weeks to go through each video and practice. This simple training will put you on the path from ground zero to hero. By the end of the 2 weeks you will have the confidence to use your kettlebell(s) and body to do amazing workouts that will help you get to your fitness goals.
What does Ground Zero mean? Ground Zero means that you are starting from scratch or/and need to completely recalibrate your movement patterns to get the most out of your training with kettlebells. Even if you have experience, but are unsure if you're doing it correctly, or if something hurts you, this will be the place to start.
Why train with Kettlebells? If you're reading this you must know the full body transformative nature of how kettlebells have completely changed peoples lives. Not only does this training get you stronger and more conditioned in record time, a few kettlebells hardly take up any room. You can do this training almost any where.
Going from very weak to extremely strong, from in pain to no pain, from unhappy and no confidence to having a purpose and feeling on top of the world. From zero connection with others to new kettlebell buddies. Really, kettlebell training is so much more than achieving an amazing powerful and strong body. The mind change has been extraordinary. The transformations are truly mind boggling. You can read real stories here.
Being eligible to get this bonus will expire soon and will only be available for those that sign up in the next 24 hours. So scroll down and join the LP family!
p.s. If you don't have a kettlebell yet, don't worry. You can begin with just your body weight or use a dumbbell.
"WORTH EVERY PENNY! I'm an avid home exerciser and have tried many different kettlebell dvds and instructors and Lauren is hands down my favortie. I initially hestiate through to sign up for a recurring membership but then I decided to give it a try and boy am I glad I did. 
The content is exceptional! It feels like you're taking classes right there with Lauren. New content is added frequently and the facebook community. is great! Without a doubt this is one of the best fitness purchases I've ever made!  Gail L
"Joining Lauren's Playground has been one of the best decisions I've made in the past five years!
My three sons were all born within four years, and we live in a fifth-floor walkup: when friends and family come over, they always joke that we "don't need to work out!"
But they were wrong: what I found was that when I didn't do regular strength training, I would get injured just going about my day to day routine. Hauling toddlers, schlepping groceries and diaper bags, and taming tantrums are all much easier with a strong and healthy body! But I definitely didn't have time to get to a gym with any frequency. After getting tired of back spasms, I joined Lauren's Playground.
What I love about the Playground is that it's so flexible. When life is crazy with work, school, travel, sick kids, etc – a five-minute workout keeps me going! When things settle down a bit, I can commit to a full program such as Rock Solid or Lean Body, and I really see the results. When I'm sick, exhausted, or injured, I focus on mobility and flow workouts. There's always something that fits my current need. What's more, I'm mentally much better able to handle the day-to-day ups and downs when I get at least a quick workout in. Lauren's programming – with her excellent coaching about form – keeps me on point, healthy, strong, and centered.
At almost 40 years old, I'm feeling as good physically as I did when I was a college athlete training many more hours each week. And I'm strong enough to carry the weekly groceries for three growing boys up to the fifth floor without any problems. I'm looking forward to staying strong with Lauren's workouts through this next phase of my life.  Thank you, Lauren!"  Shannon O'Grady
"At 50 I feel better than I have felt since I was in peak shape at 25!
You empower women Lauren and I love that about you! All I do is Lauren Brooks videos and I've lost a ton of weight after giving up working out for years. It started with buying Ultimate Sculpt DVD, been hooked ever since. 
Thanks Lauren for being such an inspiration." Lisa C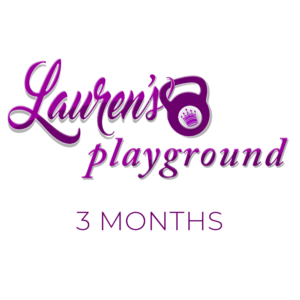 I'M READY
$127 Quarterly
3 MONTH MEMBERSHIP
Will renew every 3 months
Please allow up to 24 hours to receive your access code to the email you purchased with.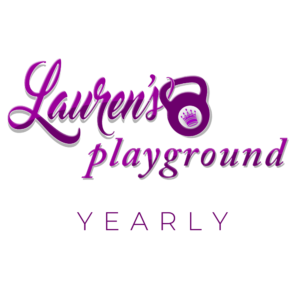 WARRIOR ANNUAL
$397 (1.09 a day)
ANNUAL MEMBERSHIP
Will renew yearly
Please allow up to 24 hour to receive your access code to the email you purchased with
WHAT'S INCLUDED IN EACH LEVEL? PLUS BONUSES
WHEN YOU JOIN AT THESE LEVELS
QUARTERLY LEVEL INCLUDES:  Full Access to Lauren's Playground! Plus invitation to One Live Virtual Class or Pre-recorded Live per week. Member Discount 15% off on all online coaching services, workshops, and products.
WARRIOR LEVEL: Everything QUARTERLY Level has + 1 Bonus 20 min coaching session ($79 value)
PREMIUM LEVEL: Everything Basic Level has + UNLIMITED Access to all Live and Pre-recorded Fitness Classes + 1 Bonus 30 min coaching session ($89 value)
Premium On The Edge Fitness Classes are generally Monday, Wednesday, Thursday, Friday and Saturday at 9a.m. Pacific Standard Time.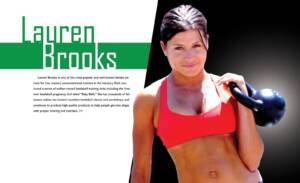 SEE YOU ON THE PLAYGROUND!
WHY JOIN LAUREN'S PLAYGROUND?
Lauren's Playground has been open and growing since June of 2016. Inside the playground you will find 40+ programs (more continue to be released) designed for all levels of fitness. Online Workshops and Live Class options have now been added! Most of the programs are based around kettlebell movements, but you will find some other fun educational fitness and nutrition courses as well.
We cater to everyone who is choosing to be a stronger and a healthier version of themselves. We have new moms, grandparents, working professionals, dads, fitness instructors, and anyone who wants to be a part of a supportive and motivating community. The follow along videos, downloadable written workout programs, educational videos, can all be accessed from any device. Many of our students (even those who are not comfortable with anything that has to do with technology) accessed the playground videos many different ways. It can be as simple as accessing it from your phone, laptop, iPad, computer, or hooking it up to you big screen, using airplay, casting it, or pulling it up through a SmartTV browser. The creativity our students from ages 25-80 years old has shared is truly amazing!
Now let's get to the WHY! How about I let my students tell you. Here are some words from a few raving students. Scroll to the bottom to join now!
WHAT'S INSIDE LAUREN'S PLAYGROUND?
Here's a quick very brief screen share video with me talking a bit about some of the programs you will find and how it works. Can't give it all away because it would spoil part of the fun of exploring through all of the detailed programs and options. The newest video above shows it all if you want much more detail.