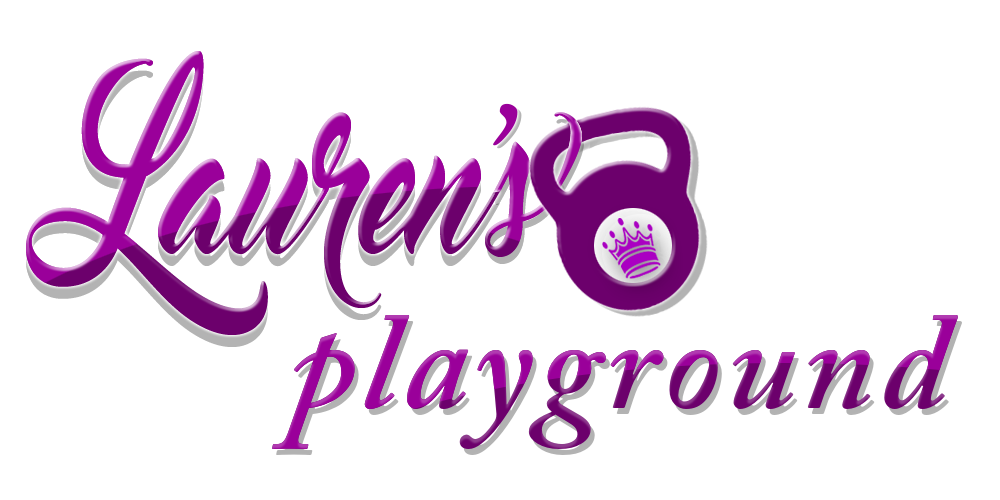 ENROLLMENT TO LP IS OFFICIALLY NOW CLOSED 
DON'T BE SAD IF YOU MISSED IT THIS TIME. WE HAVE LOT'S OF OTHER WAYS TO CONNECT AND WORKOUT. WE HAVE OUR PREMIUM LIVE CLASS MEMBERSHIP OPTION OPEN AND ACCESS TO HUNDREDS OF HOURS OF DIGITAL PROGRAMS, VIDEOS, AND DVD'S.
Join our waitlist newsletter ALL the way at the bottom of this page!
Welcome to my page! I'm so excited to have you here. It's finally time to join the thousands of people, from all walks of life, that have transformed their entire lives with my kettlebell workout programs, videos, and books over the past 16 years!
If you have been wondering, Lauren's Playground is a results driven online kettlebell fitness gym and community, that has transformed hundreds of people all over the world just like you, to become strong, lean, fit, and age beautifully.
In fact, some of our over 60 yr old members, look younger now than they did years ago! Even women who have had many kids look and feel better now than pre-pregnancy days, due to the most effective and simple kettlebell workouts provided in Lauren's Playground.
Lauren's Playground online community has been successfully changing lives now for over 4 years. Our member's body physique changes and mindset are undeniable.
In addition to getting our exercise and strength on, we have an incredible and supportive community both within LP and through an amazing private Facebook Group that you can join when you're a member.
You will not regret joining Lauren's Playground where you will have access to the best workouts for YOUR level, that you could ever imagine! I made a little video below that will show you exactly what you can expect when you become a member. That way you don't have to even wonder what you'll be signing up for.
Hope to see you on the Playground! This will be the best decision you have ever made!
The video below is the both the tour of Lauren's Playground and a quick over view of the 3 Secrets to Strength and Fat Loss!
Register below as we have 2 main options for join! See you on the inside.
If you'd like to learn about me and my background, you can read more here
TIME SENSITIVE BONUS ALERT
Value $129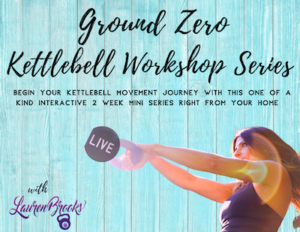 GOUND ZERO KETTLEBELL WORKSHOP 2 WEEK SERIES 
This is a workshop was recorded completely LIVE over a 2 week time span, consisting of 6 mini meet up lessons via Zoom, with you and others from around the world. I suggest you take 2 weeks to go through each video and practice. This simple training will put you on the path from ground zero to hero. By the end of the 2 weeks you will have the confidence to use your kettlebell(s) and body to do amazing workouts that will help you get to your fitness goals.
What does Ground Zero mean? Ground Zero means that you are starting from scratch or/and need to completely recalibrate your movement patterns to get the most out of your training with kettlebells. Even if you have experience, but are unsure if you're doing it correctly, or if something hurts you, this will be the place to start.
Why train with Kettlebells? If you're reading this you must know the full body transformative nature of how kettlebells have completely changed peoples lives. Not only does this training get you stronger and more conditioned in record time, a few kettlebells hardly take up any room. You can do this training almost any where.
Going from very weak to extremely strong, from in pain to no pain, from unhappy and no confidence to having a purpose and feeling on top of the world. From zero connection with others to new kettlebell buddies. Really, kettlebell training is so much more than achieving an amazing powerful and strong body. The mind change has been extraordinary. The transformations are truly mind boggling. You can read real stories here.
Being eligible to get this bonus will expire soon and will only be available for those that sign up in the next 24 hours. So scroll down and join the LP family!
"WORTH EVERY PENNY! I'm an avid home exerciser and have tried many different kettlebell dvds and instructors and Lauren is hands down my favortie. I initially hestiate through to sign up for a recurring membership but then I decided to give it a try and boy am I glad I did. 
The content is exceptional! It feels like you're taking classes right there with Lauren. New content is added frequently and the facebook community. is great! Without a doubt this is one of the best fitness purchases I've ever made!  Gail L
"Joining Lauren's Playground has been one of the best decisions I've made in the past five years!
My three sons were all born within four years, and we live in a fifth-floor walkup: when friends and family come over, they always joke that we "don't need to work out!"
But they were wrong: what I found was that when I didn't do regular strength training, I would get injured just going about my day to day routine. Hauling toddlers, schlepping groceries and diaper bags, and taming tantrums are all much easier with a strong and healthy body! But I definitely didn't have time to get to a gym with any frequency. After getting tired of back spasms, I joined Lauren's Playground.
What I love about the Playground is that it's so flexible. When life is crazy with work, school, travel, sick kids, etc – a five-minute workout keeps me going! When things settle down a bit, I can commit to a full program such as Rock Solid or Lean Body, and I really see the results. When I'm sick, exhausted, or injured, I focus on mobility and flow workouts. There's always something that fits my current need. What's more, I'm mentally much better able to handle the day-to-day ups and downs when I get at least a quick workout in. Lauren's programming – with her excellent coaching about form – keeps me on point, healthy, strong, and centered.
At almost 40 years old, I'm feeling as good physically as I did when I was a college athlete training many more hours each week. And I'm strong enough to carry the weekly groceries for three growing boys up to the fifth floor without any problems. I'm looking forward to staying strong with Lauren's workouts through this next phase of my life.  Thank you, Lauren!"  Shannon O'Grady
"At 50 I feel better than I have felt since I was in peak shape at 25!
You empower women Lauren and I love that about you! All I do is Lauren Brooks videos and I've lost a ton of weight after giving up working out for years. It started with buying Ultimate Sculpt DVD, been hooked ever since. 
Thanks Lauren for being such an inspiration." Lisa C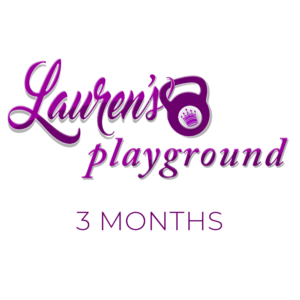 I'M READY

3 MONTH MEMBERSHIP

Will renew every 3 months
Please allow up to 24 hours to receive
your private access code to LP
to the address you purchased with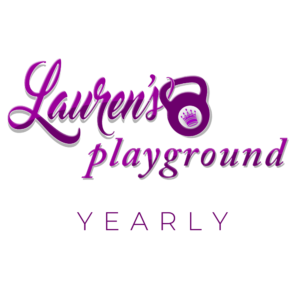 WARRIOR ANNUAL

ANNUAL MEMBERSHIP
BONUS 20 Minute Private Coaching Session with Lauren
Will renew yearly
Please allow up to 24 hours to receive your access code to LP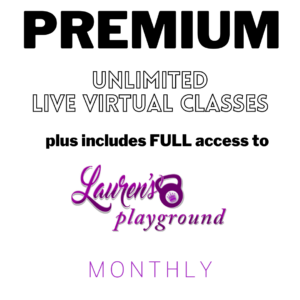 ***OPEN NOW***
MONTHLY PREMIUM - $199 (Valued $279)

MONTHLY + bonus PLAYGROUND
Will renew monthly or yearly
INCLUDED IN EACH LEVEL
WHEN YOU JOIN AT THESE LEVELS
Playground members will receive a 15% Discount on any distant coaching service.  Program Design, Nutrition Consultation, Goal Setting. This discount is only for our members.
Playground Members – Get access to a Private Facebook Group Community for extra support and community.
Playground Members – now get a chance to show up live via zoom to a virtual Kettlebell Class taught by Lauren Brooks and her amazing coaches. Get instant feedback. This right here is worth the price of admission.
WARRIOR ANNUAL – most cost effective. Essentially gives you 3 months free. Plus get a 20 minute private coaching session with Lauren. ($79 value)
Premium On The Edge Fitness Classes are generally Monday, Wednesday, Thursday, Friday and Saturday at 9a.m. Pacific Standard Time.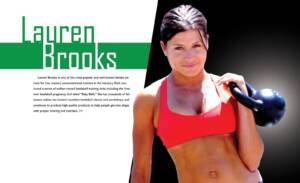 If you're not ready for Lauren's Playground Take 60% off any Kettlebell Fitness DVD's with code: 60off.

SEE YOU ON THE PLAYGROUND!
Featured In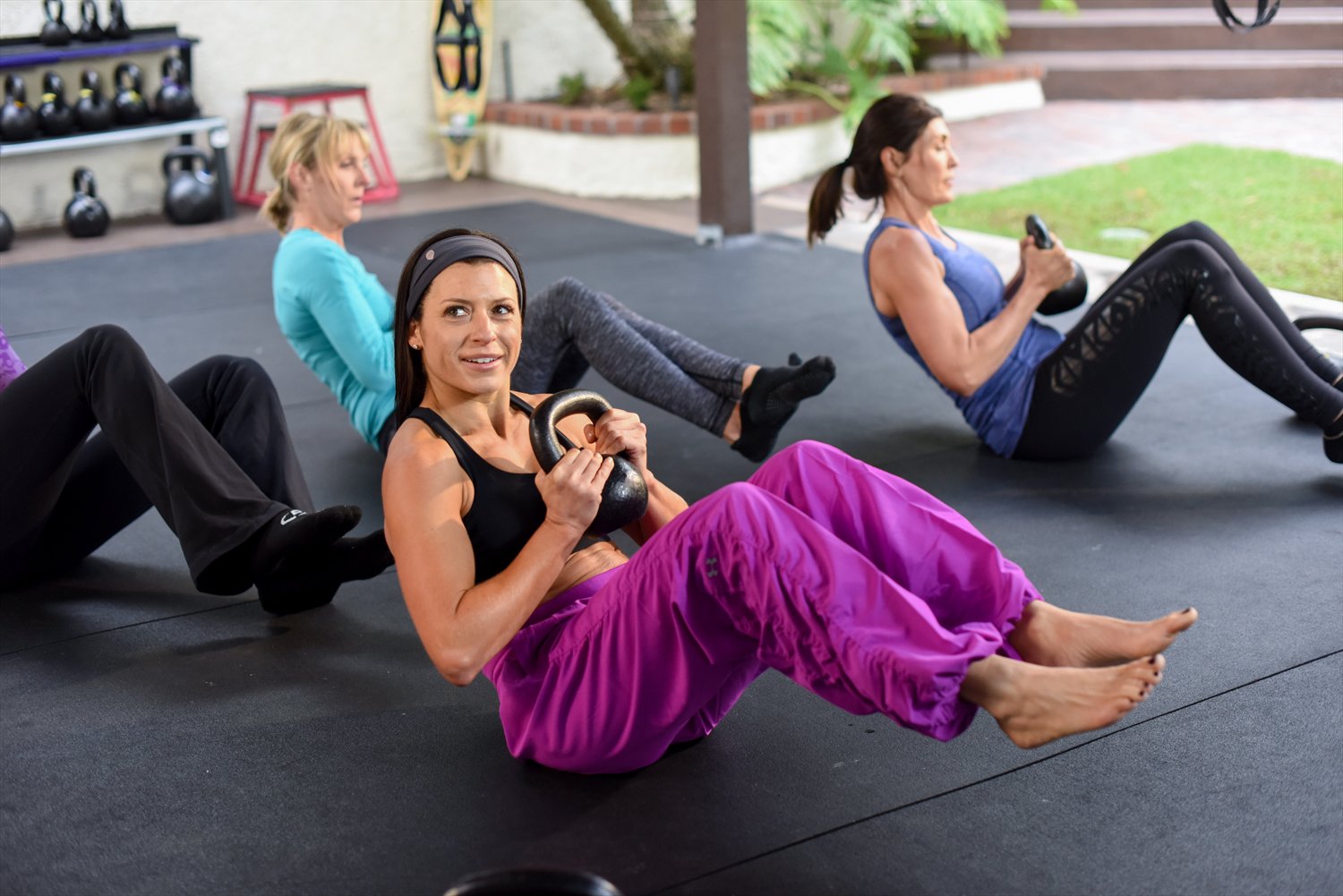 Lauren Brooks' Featured Workouts
Check out Lauren Brooks' latest body-shredding workouts with kettlebells and begin your total body transformation today!

Stream or Download Kettlebell Workouts and Programs
Download or stream for instant access to Lauren Brooks' amazing kettlebell workouts and programs online.

GET A STRONG, SEXY, SCULPTED KETTLEBELL BODY
Whether you're looking to get in better shape, spice up your exercise regimen or challenge yourself with the ultimate high-intensity workout, kettlebells are the perfect tool to take you to the next level. With over 300 step-by-step photos, Kettlebells for Women presents a solid 12-week program packed with exercises that produce unmatched results for:
• burning fat and increasing lean muscle mass
• enhancing balance, coordination and flexibility
• increasing and developing rock-hard core stability
• improving sports performance
• shaping legs, back and shoulders
• firming and lifting glutes
Kettlebells for Women teaches the proper way to do primary lifts as well as variations so you can use kettlebells safely and effectively to transform your current workout into a fun, dynamic program for sculpting and strengthening your entire body.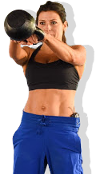 Lauren Brooks' Fitness Challenges
Train with Lauren's Free Fitness Challenges